Warning! We detected the following word in the description : "Junk". Please be aware that the item might not be working. Please contact us before bidding for more information.
Auction ID:
t701137912
Starting price:
1430 Yen
Current price:
1430 Yen (€ 11.27 , $13.9*)
Quantity:
1
Reserve price:
None
Return policy :
no return
Number of bids:
0
End (Japan time) :
Tuesday 26th May 10:04:51 PM
Time left:
20 hours 8 minutes
View countdown
View original page on Yahoo auction
*The conversion is made ​​from the current Paypal exchange rate (1 Euro = 126.875 Yen and 1 dollar = 102.883 Yen)

Product Information
The translation is done automatically and is provided for your convenience. Please do not rely on this translation alone for your bidding decision and make sure that the article meets your expectations before placing any bid.
○商品説明○
素材感が良く、シンプルで使いやすい素敵な一着です!
●カラー●
写真参照
●素材●
ウール95カシミヤ4エラスタン1
●コンディション●(詳細は下記)
10段階評価中7
●サイズ●
1表記 M程度ウエスト76股上27股下36着丈61裾33
●決済方法●
「ヤフー簡単決済」でお願いします。
●注意事項●
古着の取り扱いにつき神経質な方はご遠慮ください、基本的に返品交換は不可能ですがこちらに記載以外の問題がありましたら対応いたしますのでご連絡くださいませ。
●配送方法●
佐川急便全国一律送料600円 ※まとめて複数件落札の際も上記の値段でまとめて発送いたします。沖縄、離島は別料金が発生します。
コンディション表記について
10-新品もしくは未使用品
9-新品に近い美品、5回以内使用程度
8-目立つ傷汚れのない美品
7-使用感はあるが目立つ傷汚れのない美品
6-使用感が目立つ並品、傷汚れはなし
5-目立たないが小さな傷汚れ等見受けられる
4-明らかなる傷汚れが2箇所以上あり
3-大きな汚れあり
2-破損、使用時の問題があるが使用は可能
1-使用不可のジャンク品
☆その他沢山の商品をお安く出品中です!是非お時間あればご覧ください^ ^!
■□■□■□■□■□■□■□■□■□■□■□■□■□■□■□■□■□■□■□■□■□■□■□■□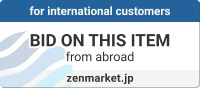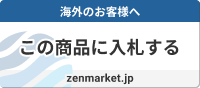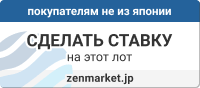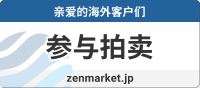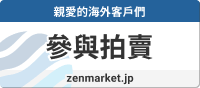 Item price (in yen) :
Item price: 0 Yen
Item price: 0 Yen
Service Fee: 0 Yen
Payment Fee: 0 Yen

Shipping Fee:
Japan Shipping Fee: 0 Yen









Total (depending of shipping type) :
With EMS : 0 Yen
With airmail : 0 Yen
With sal : 0 Yen
With boat (surface) : 0 Yen

With small package airmail (limit 2000g) : 0 Yen
With small package sal (limit 2000g) : 0 Yen
With small package surface (limit 2000g) : 0 Yen